Swiss Kids Camp
Swiss Kids Camp
Sunday, June 11, 9:30 AM – 3:30 PM
Swiss Park, 5911 Mowry Ave, Newark, CA
Live in person and via Zoom – Ages 5-15
Register HERE
The United Swiss Societies of Northern California's, Swiss Kids Camp is a fun filled day for children of 5 – 15 years of age to experience Swiss culture. Held outside in the picnic area and in the historic hall at Swiss Park in Newark, California. Families from around the world can also join us via Zoom. Attendees get to experience a little bit of Switzerland in the heart of the San Francisco Bay Area. Children will get to talk to expert Schwinger Joe Ming Zooming in from Switzerland to talk about Schwingen (Swiss wrestling). Other activities include Bauernmalerei (traditional folk art painting), singing, baking, building Swiss art out of Legos and meet some Bernese Swiss Mountain Dogs. We will have our first agriculture class about growing tomatoes and cooking a tomato sauce. The will be out lunch the sauce everyone made over spagetti with salad and garlic bread. Age 16 and up can also participate as Camp Group Leaders.  Parents can drop off kids or stay and watch or participate as a Group Leader.
A satchel, lunch and snacks will be included.
$20 per camper:  Early Bird Price
$25.00 per camper:  Price after June 5, 2023
Free Family Zoom link for those far away. Donations Appreciated.
More information about Swiss Kids Camp can be found at: www.unitedswissnorcal.org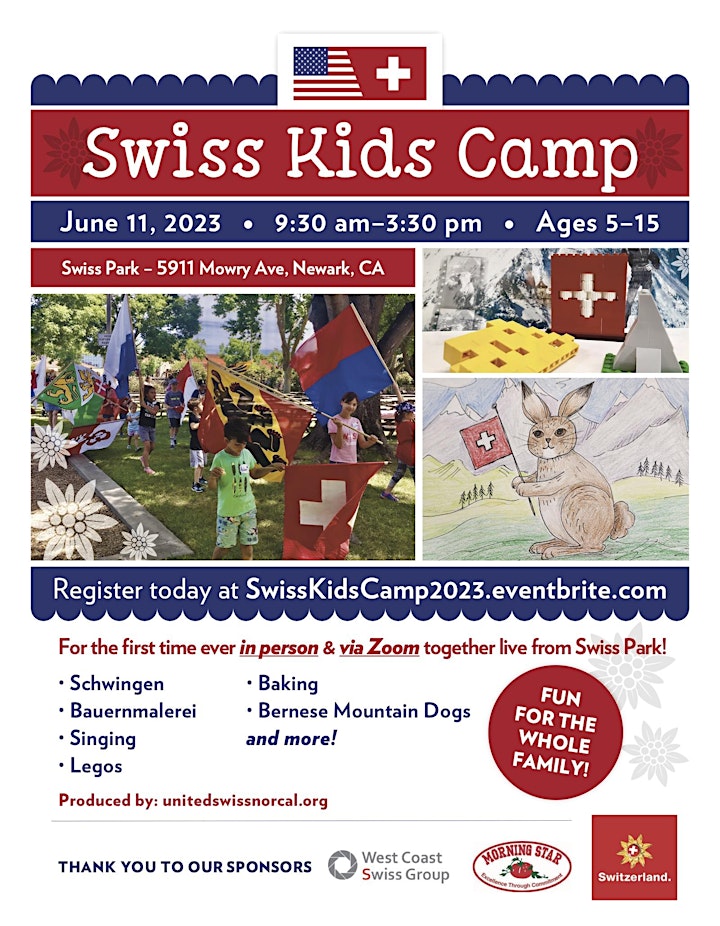 Swiss Park -

5911 Mowry Ave

,

Newark